This delicious vinaigrette could not be simpler: Add the ingredients, Shake and Serve.  That's it!
Start with a container with a tight screw-on lid.  A mason jar works great for this.  Shake the jar to blend the ingredients, then shake again just before serving.  (As an alternative, the ingredients can be whisked in a bowl, but that's just not as fun.)
So, let's talk about emulsifiers.  An emulsifier is an ingredient that helps oil and vinegar (or water) stay blended.  In this recipe, the emulsifier is Dijon mustard.  Other common emulsifiers are mayonnaise, egg yolk, honey and tomato paste.  You can make the vinaigrette without an emulsifier, but the ingredients will not blend, no matter how much you shake or whisk.  For example, this photo is the same recipe prepared without the mustard.  After a LOT of shaking the ingredients immediately separate into oil on top, vinegar/water on the bottom, with the herbs floating in between: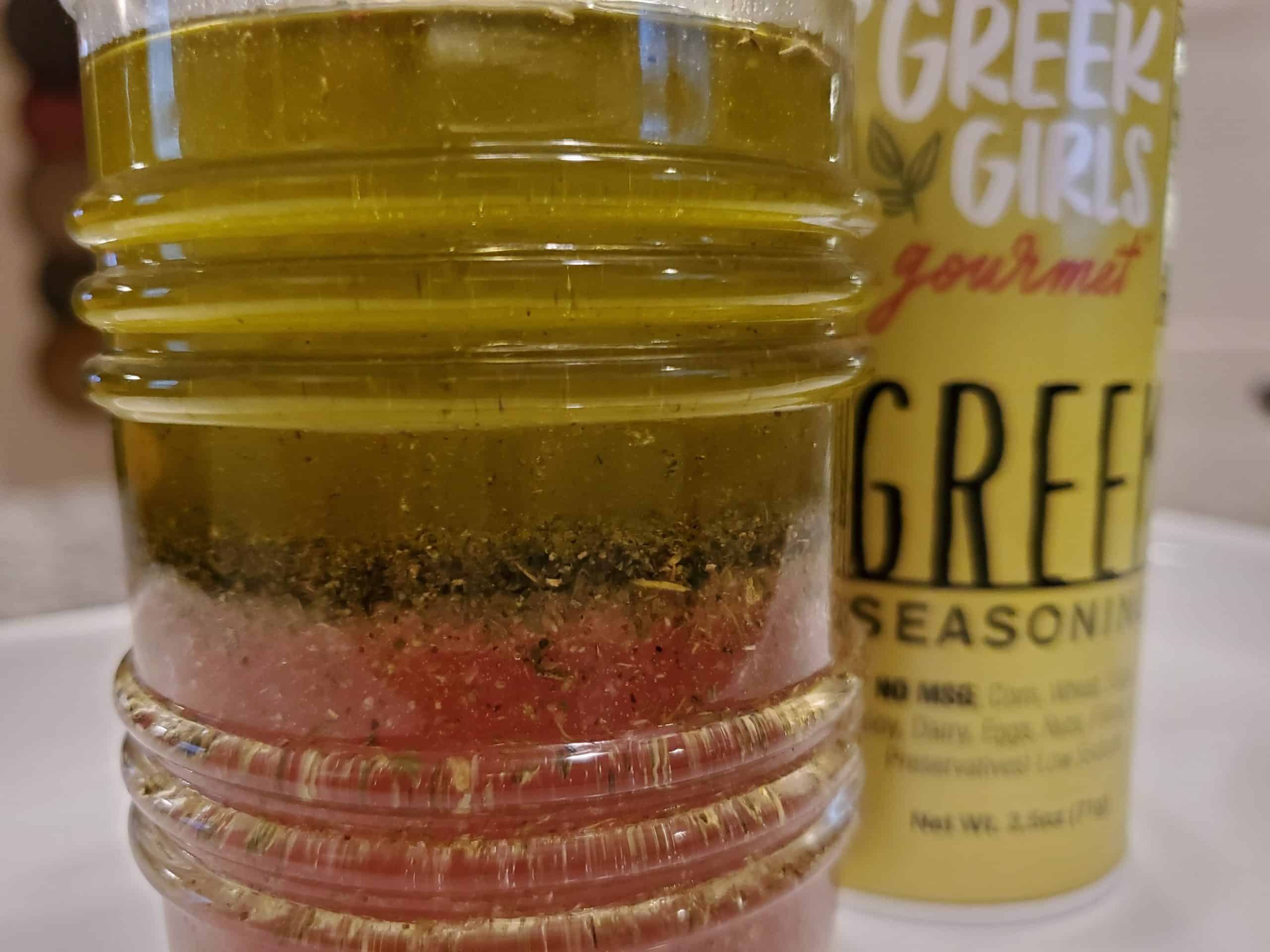 Add the mustard, shake and voila!  We are emulsified: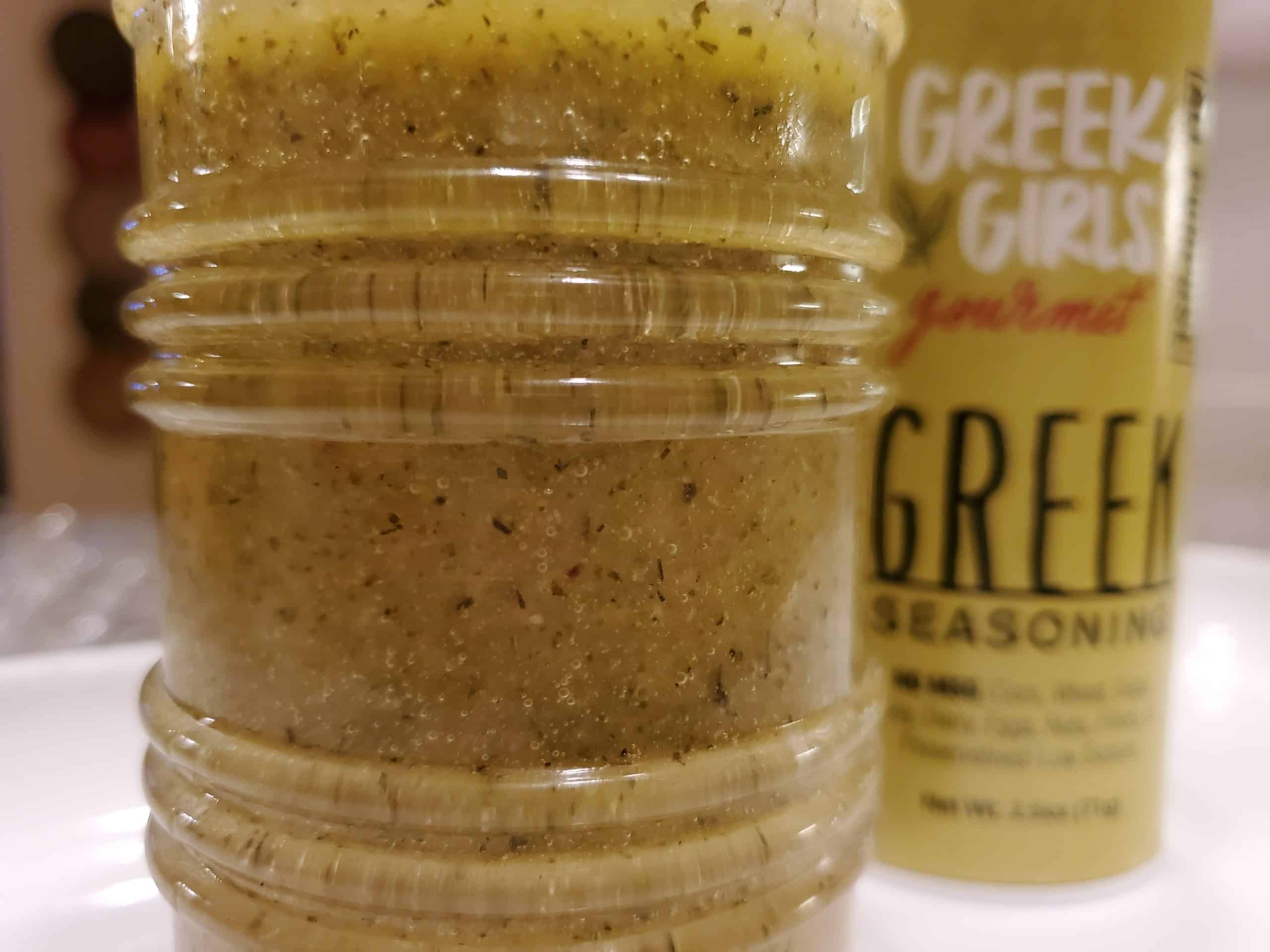 The flavor of this vinaigrette changes with the flavor of the olive oil used.  If a light tasting or salad style olive oil is used, the vinaigrette will also have a lighter taste.  If a dark full-bodied olive oil is used, the vinaigrette will have a more distinctive olive oil taste.  To balance a stronger olive oil flavor, just add a little salt.  With my strongest olive oil I add ¼ teaspoon salt to the recipe.
This vinaigrette can be used immediately.  But for even better flavor, blend it up an hour or so before you need it, to allow the seasonings to bloom.  It is delicious on green salad, pasta salad and even potato salad.  Also, try it as a marinade for chicken.  Or just drizzle it over fresh tomato and mozzarella or feta cheese and olives!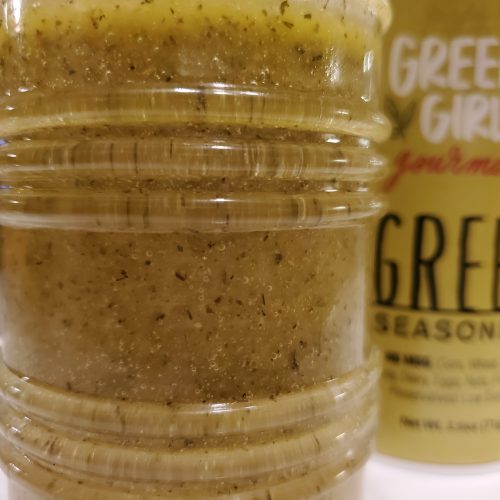 Greek Girls Easy Red Wine Vinaigrette
Home made red wine vinaigrette is an easy way to elevate a good Greek salad. This one is done in just 5 minutes.
Ingredients
¼

cup

Red wine vinegar

¼

cup

Water

½

cup

Extra virgin olive oil

1½

teaspoons

Dijon mustard

1¾

teaspoons

Greek Girls Gourmet All Purpose Greek Seasoning

⅛ to ¼

teaspoons

Salt

(optional)
Instructions
Combine all ingredients in a mason jar or other shaker jar with a tight fitting lid. 

Attach the lid, making sure it is tight and the liquid will not leak out.  Shake well to ensure all ingredients are combined. 

Use immediately or wait one hour to allow flavors to bloom. Shake gently before each use. This vinaigrette should be refrigerated and used within a week.  Be aware this dressing will become solid in the fridge, based on the high oil content. Just remove from the fridge, place it on the counter and it should be completely liquid in 30 minutes or less. Shake occasionally to help the process.