You may know them as chickpeas or garbanzo beans, but you may not know you can roast them! I sure didn't but I do now. I made a batch of these roasted chickpeas a couple of weeks ago for a girls weekend trip and was impressed by how well they traveled.  I made sure to cool them completely then stored them in a plastic container with a lid that was not super tight. They went with us in the car, in and out of the fridge and we even had them for breakfast. They are simple to make, are a high fiber snack and have an addictive chewy crunch.
So, the first question is canned vs dry chickpeas.  For this recipe, canned are best.  They are already cooked and ready to roast, while dry peas would need to soak overnight, then cook and cool.  There are times to take the easy way, and this is one of them.  Note the peas must be drained, rinsed and dried completely before roasting, or they won't get crispy.
Next comes the olive oil.  This is what gives the chickpeas their crispiness, so be generous and make sure they are coated completely.  You'll note that salt is added before roasting but the Greek seasoning is added after roasting.  This is to prevent the herbs and spices in the Greek Seasoning from overcooking or (*gasp*) burning.  Just be ready to sprinkle it on immediately when the peas are removed from the oven.
As for baking, I wrestled with a lower temperature for a longer time OR a higher temp for a shorter time.  Since the peas are already cooked I went with 450o F for 25-30 minutes.
These little golden nuggets will be crunchy right out of the oven but gradually become chewy as they cool.  Be sure to try them both ways.  They are delicious as a snack and even as a salad topping!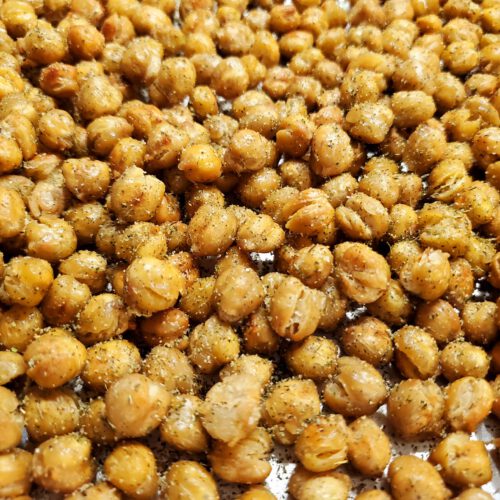 Roasted Chickpeas with Greek Seasoning
Golden, crunchy, chewy roasted chickpeas make a surprisingly delicious snack. Greek seasoning makes them amazing!
Ingredients
2

15 ounce cans

Chickpeas (drained, rinsed and dry)

3

tablespoons

Olive oil

½

teaspoon

Salt

2

teaspoons

Greek Girls Gourmet All Purpose Greek Seasoning (more to taste)
Instructions
Drain the chickpeas and rinse with water, then spread the peas on a clean dry kitchen towel or paper towels.  Roll them with your hands until the peas are dry on all sides. Discard any loose waxy skins that come off while drying.

Be sure a rack is in the middle of the oven and preheat to 450°F.

Pile the dry chickpeas in the center of a large rimmed baking sheet. Top with olive oil and salt and toss (using hands or a spatula) until they are completely coated.  Spread the chickpeas out in an even layer for roasting.

Roast for 25-30 minutes, stirring the chickpeas or shaking the pan every 10 minutes.  Look for the peas to be dark golden in color, crispy on the outside and tender inside.  Remove from the oven, immediately sprinkle with Greek seasoning and toss until all peas are coated.

Serve while warm and crispy. As they cool the peas gradually become deliciously chewy.