Chicken… there are a thousand ways to prepare it. Unfortunately, many of those ways turn out to be high on the "bland-o-meter" and lacking in imagination. But roasted whole chicken, now there's something new. (Insert eye roll.)
But this chicken is different.  For real.  Yes, it is lemony, but not over the top.  The lemon-olive oil combination makes the chicken tender with a browned and crispy skin.  And the Greek Girls Seasoning is just icing on the flavor cake.
We can all use new chicken recipes. A survey by the National Chicken Council found Americans would consume 93 pounds of chicken per person in 2018.  Apparently, chicken is also the "meat of choice" in Australia, where they consume over 200 pounds per person, per year!
Historically, the Greek diet included meat, chicken and fish only a couple of days per week. But that has increased due to adoption of a more western diet. It also seems as income increases, the amount of meat consumed also increases.  (This might be a good place to talk about the "Mediterranean Diet", which includes lots of vegetables, fruits, whole grains and healthy fats; protein primarily from fish, poultry, beans and eggs; moderate amounts of dairy and limited red meat.)
So this brings us full circle, back to the need for tender, juicy and delicious chicken recipes.  We hope you will add this one to your family's meal plan!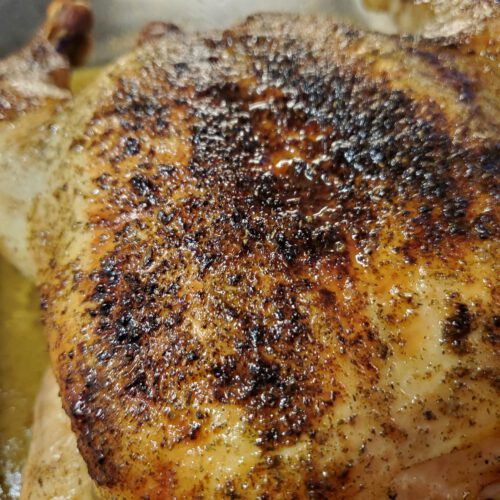 Lemony Roasted Chicken
Beautifully browned whole chicken is tender, juicy and full of Mediterranean flavor.
Ingredients
1

4 pound

Chicken, whole, giblets removed

4

tablespoons

Extra virgin olive oil, divided

2

teaspoons

Greek Girls All Purpose Greek Seasoning, divided

4

tablespoons

Lemon juice

1¼

cup

Hot water
Instructions
Preheat oven to 400°.  Remove chicken from packaging, discard giblets, rinse bird and pat dry with paper towels.  Place chicken breast side down in a roasting pan (or a 9x13 casserole dish).

Drizzle 2 tablespoons olive oil over back of chicken; use fingers or back of a spoon to cover as much of the skin as possible. Sprinkle with 1 teaspoon Greek Girls Seasoning.

Add lemon juice and hot water to the roasting pan. Roast chicken at 400° for 30 minutes.

Remove the chicken/roasting pan from the oven. Carefully turn the chicken over (breast side up). Drizzle with 2 tablespoons olive oil. Sprinkle with 1 teaspoon Greek Girls Seasoning.

Return chicken to the oven and reduce heat to 375°. Continue roasting 1 hour, or until juices run clear and a meat thermometer inserted into the thickest part of the thigh reads 165°.  Approximately half-way through this cooking time remove from the oven, baste the chicken with pan juices and return to oven for the remainder of time.

When roasting is complete (165° internal temperature), remove from oven and allow the chicken to rest 10 minutes before carving.
https://www.nationalchickencouncil.org/survey-shows-us-chicken-consumption-remains-strong/#:~:text=Consumers%20see%20chicken%20as%20versatile%20and%20convenient&text=Americans%20will%20eat%20a%20record,the%20U.S.%20Department%20of%20Agriculture.