This recipe is an adaptation of one I learned years ago.  I think this happens a lot.  We modify recipes to suit our own tastes, at least that's what I did with this one.  (I have also been known to mis-remember a recipe and create something new.)  Since I didn't know how to prepare chard, I had never (knowingly) eaten it.  But this dish is what made me like, no not like… love chard.  If you've never had it or are on the fence about this leafy green, give this recipe a try.
Chard (or Swiss Chard) comes in several varieties, and the ones I see most often are red, rainbow or green. There does not seem to be much difference in flavor.  I usually buy the red as I love the color contrast in the dish.  Be sure to rinse it thoroughly, to remove dirt and sand from the leaves and stems.
This recipe calls for dried apricots, and it is important to talk about them.  Dried apricots are treated with sulfur dioxide gas to keep them from browning.  (Just read the ingredients, you will see it listed.) The sulfur dioxide keeps them a bright orange color.  Sulfur dioxide is also found in soft drinks and a variety of dried fruits (even raisins) and vegetables.   Some people are sensitive to sulfur/sulfites, so purchase organic ingredients whenever possible.  For this batch I used organic apricot fruit leather rather than dried fruit.  It is a bit brown, but the flavor is not affected.  The recipe calls for only ¼ cup of chopped dried apricots.  The fruit leather is easier to keep on hand for this small amount.
I typically serve this chard with grilled salmon on top.  It complements the fat from the salmon, and you get a bit of the chard with every bite.
I hope you take a chance to expand your culinary horizons and give chard a try.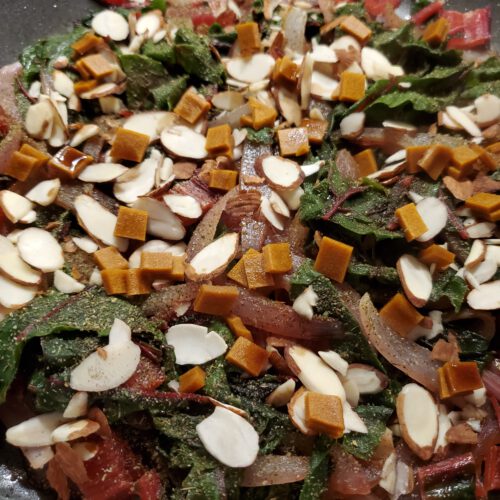 Sweet and Savory Sautéed Chard
Swiss chard withred onions, dried apricots, almonds and a bit of Greek seasoning will make youa fan of this beautiful leafy green.
Ingredients
1

large bunch

Swiss chard (any variety), rinse thoroughly and just the bottom ½" of stem removed

1

small

Red onion, sliced

1½

teaspoon

Greek Girls Gourmet All Purpose Greek Seasoning

¼

cup

Dried apricots or 0.5 oz apricot fruit leather, finely diced

⅓

cup

Sliced almonds

2

tablespoons

Extra virgin olive oil

1

teaspoon

Balsamic vinegar
Instructions
Toast the almonds in a large dry skillet over medium-high heat. Toss continually until slightly brown. Remove from heat and transfer almonds to a small bowl to prevent additional browning.

Slice the red onion into ¼" slices.  Remove stems from the chard and chop them into ½" pieces.

In the same large skillet, heat oil over medium-high heat. Add the red onion and chopped chard stems.  Sauté for 3-4 minutes, until tender.

While the onions and chard cook, stack the chard leaves and slice into ¾" ribbons.  Add them to the pan with red onion and chard stems.  Sprinkle on the Greek Girls Seasoning.  Turn the chard a few times to combine.  Sauté 3-4 minutes.

While the chard cooks, dice the apricot (dried or fruit leather). Add the diced apricot to the chard and drizzle the balsamic vinegar. Sauté an additional 4-5 minutes until the chard is tender.

Sprinkle with toasted almonds just before serving.