For many years it has been our tradition to have pizza for Christmas Eve dinner.  When I started making my "own" pizza crust I used the roll of pizza dough from the cold case at the grocery store (right next to crescent rolls and cookie dough).  Then, I graduated to pre-baked or par-baked pizza crusts.  These were convenient as I only had to add my toppings and bake.  However, as I learned more about the potential health effects of gluten (for some people), we were facing the awful truth of no pizza on Christmas Eve!  Well, no pizza was not an option, so my research lead me to Fathead Pizza Crust.  I use this recipe to make my pizza crust (and have no association with that author).  Feel free to use your favorite pizza crust.
But pizza is not really pizza without the toppings, so for this Christmas Eve, I thought I would try a Caprese Pizza (it is red and green, after all).  It was really delicious and a nice change from the pizza topping rut we sometimes get stuck in!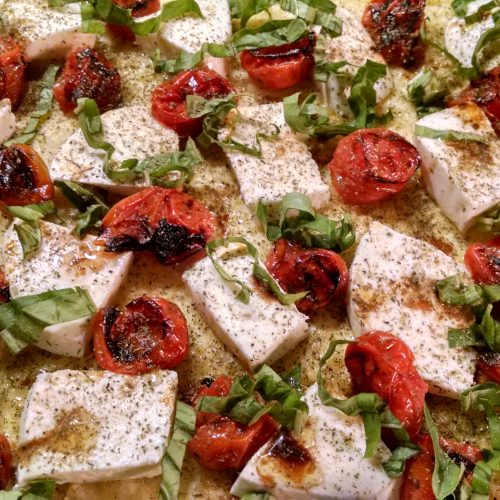 Caprese Pizza
Whole mozzarella, pan roasted tomatoes and sweet basil drizzled with olive oil and balsamic vinegar.
Ingredients
1

Pizza Crust

3

tablespoons

Olive oil

Divided

2

teaspoons

Greek Girls Gourmet All Purpose Greek Seasoning

Divided

1

pint

Cherry tomatoes

8

ounces

Whole soft mozzarella

Avoid mozzarella in water for this recipe.

4

leaves

Fresh basil

2

teaspoons

Balsamic vinegar
Instructions
Prepare and pre-bake preferred pizza crust recipe. (I used a 9"x12" pan that is 1" deep and lined with parchment paper.) Preheat oven to 425°.

Add 1 tablespoon olive oil to a cast iron or other skillet. Over medium-high heat, add the pint of cherry tomatoes. Allow tomatoes to cook undisturbed to develop char and carmelization on the bottom. (About 10 minutes.) Reduce heat as needed to prevent burning.

While the tomatoes are roasting, drizzle 1 tablespoon olive oil on the pre-baked pizza crust. Spread olive oil with fingers to reach the entire surface of the crust. Sprinkle the crust with 1 teaspoon Greek Girls Gourmet All Purpose Greek Seasoning.

Cut the mozzarella into chunks or slices and distribute evenly around the prepared crust. Then add the roasted tomatoes, also distributing them evenly.

Roll the basil leaves lengthwise and slice them into small strips. Top the pizza with the strips of basil.

In a small bowl add 1 tablespoon olive oil and 2 teaspoons balsamic vinegar. Blend quickly and drizzle over the prepared pizza.

Finally, sprinkle the pizza with 1 teaspoon Greek Girls Gourmet All Purpose Greek Seasoning.

Bake pizza at 425° for 10-12 minutes, or until toppings are warm and cheese is melted.