I love all things caprese and this chicken hits all the requirements. Tomatoes, mozzarella and basil.  This time the basil is in pesto form and the tomatoes are fire roasted.  And these two switch ups add a delicious depth of flavor to this one-pan recipe.
First be sure to use a meat tenderizer to pound the chicken breasts to equal thickness.  There is nothing worse in the kitchen than having a piece of chicken that is thicker than the rest.  This step helps all pieces to cook evenly and it makes the chicken melt-in-your-mouth tender.
This one pan recipe requires stove top, oven and broiler cooking, so a large cast iron skillet is perfect.  There are a number of other multi-function skillets available these days, so one of those may work, as well.  The recipe has a few more steps than I usually like, but they are easy.  Once you make it the first time it you will have it down, I promise.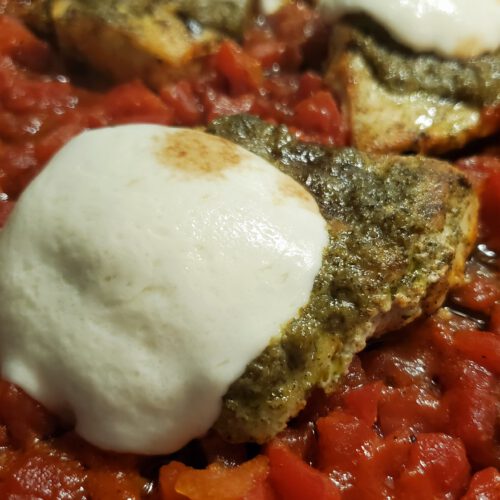 Caprese Chicken
This easy one-pan caprese chicken is melt-in-your-mouth tender and fancy enough for company. You won't believe how easy it is.
Ingredients
3

large

Chicken breasts (halved and pounded)

Greek Girls Gourmet All Purpose Greek Seasoning

3

tablespoons

Extra Virgin Olive Oil

1

can

Petite diced, fire roasted tomatoes

3

tablespoons

Basil pesto

4

ounces

Fresh mozzarella, 6 slices

2

tablespoons

Balsamic Vinegar
Instructions
Using a meat tenderizer, pound the six pieces of chicken to equal thickness. Sprinkle chicken liberally on both sides with Greek Girls Gourmet All Purpose Greek Seasoning.

Place a large cast iron skillet over medium high heat and add olive oil. Sear chicken on both sides until well browned.

Remove chicken from pan and set aside.  Add to the skillet one can of fire roasted tomatoes and stir to deglaze.

Add chicken back to the pan and top each piece with ½ tablespoon of pesto, spreading to cover each piece.

Place skillet into preheated oven for 15-20 minutes, until chicken reaches internal temperature of 165°F.

Remove skillet from the oven and top each piece of chicken with a slice of mozzarella.

Preheat broiler. Place skillet under broiler for several minutes until cheese is melted.

Remove skillet from oven and drizzle with balsamic vinegar.