Whether you're concerned about carbs or not, this delicious option for cauliflower will fit easily into your "what's for dinner?" rotation. Thanks to just a few ingredients, it is simple to whip up, and you can (almost) make the whole thing in one pan. And how does it taste? With great seasoning it is pretty close to mashed potatoes.
First, we've got to talk about cauliflower because it can make or break this dish. Not all cauliflower is created equal, as the water content can vary and affect the finished product. I have made mashed cauliflower that was more like cauliflower soup, and it was not good.  So, it is best to steam the cauliflower, rather than boiling it, to keep the florets from being water-logged.  It is done when a fork easily pierces the florets, which takes about 15 minutes of steaming. You don't want to over steam these guys, as they will release more water when you mash or process them, making your dish runny.
The next thing to do is drain the steamed cauliflower. Using a large spoon transfer it from the steamer into a strainer, cover with a lid and let it rest a few minutes.  This allows any excess water to drain away.
Now to the mashing. An immersion blender works great for this. An old-fashioned hand-held potato masher works, too, but who has time for that? A food processor is also a good choice. It might take 2 or 3 batches (depending on the size of your machine) to get all your cooked cauliflower processed.  Keep an eye on the consistency, as you don't want to make cauliflower soup!  Once all your cooked florets are blended, mashed or processed, you are done!
Mashed cauliflower is great served with a juicy roast or pork chops.  For a vegetarian option, try it under a ladle of lentil soup. Yum.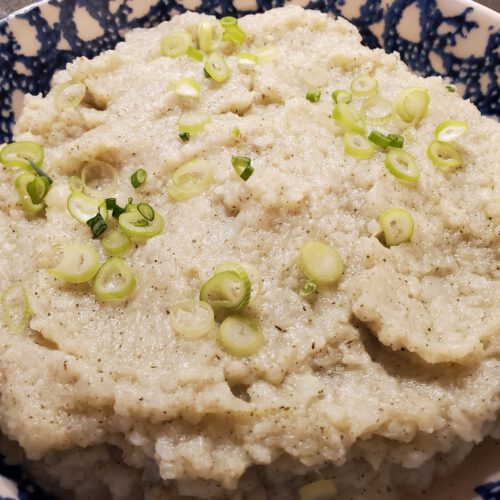 Greek Girls Mashed Cauliflower
Flavorful mashed cauliflower is low in carbs and so easy you're sure to add it to your dinner rotation! Just a few ingredients and (almost) done in one pan.
Ingredients
1

large

Cauliflower, cut into florets

2

tablespoons

Butter

2

cloves

Garlic, minced

1

tablespoon

Greek Girls Gourmet All Purpose Greek Seasoning
Instructions
Place cauliflower florets in a steamer over a large pot of salted boiling water. Steam for 15 minutes until fork tender.  

Remove from heat.Transfer florets to a strainer. Cover with a lid and set aside.

In the same pot, melt the butter over medium heat. Add garlic and sauté 1 minute. Remove from heat.

Return cauliflower to the pan. Add the Greek Girls Seasoning. Process with an immersion blender or with a potato masher, until the cauliflower is smooth.