Several years ago I started eliminating processed and high carb food from my diet (for the most part), but I found myself missing the salty crunch of chips and crackers.  I started experimenting with kale chips and while they don't replace potato chips by any stretch of the imagination, they are crunchy and can be flavorful with the right toppings.
Now I don't typically look at leafy greens and wonder how they might taste when roasted.  And, honestly, it took me some time to get brave enough to try it.  But kale is a cruciferous vegetable, like cauliflower and Brussels sprouts, and we roast those… so why not?!
If kale chips are a little bit scary, let me tell you that soggy kale chips are downright frightening.  The way to avoid soggy chips, you ask?  They need to be as dry as possible before adding oil and seasoning.  The trusty salad spinner is the tool of choice for this.  Rinse the kale, shake off as much water as possible, tear the kale leaves off the stems into large chunks, place those pieces into a salad spinner, and spin until dry!
Next, place the dry kale pieces into a large bowl.  Drizzle on the olive oil (or coconut oil) and use your hands to massage the oil onto all the pieces.  I know this means dirtying another bowl, but you will need a large vessel to turn the leaves and distribute the oil evenly.  You will thank me later!  Then spread in a single layer onto a parchment lined half-sheet baking pan (13"x18").  Try to separate the pieces as much as possible, for even cooking.  Sprinkle with Greek seasoning and roast!
I used an 8 ounce package of fresh kale.  After removing from the stems I was left with just under 5 ounces.  The 5 ounces of kale completely filled the half-sheet pan.
Kale chips can be used anywhere you need a bit of light crunch, on top of a salad or even crumbled up over a big bowl of popcorn.  But by far my favorite way is to eat them warm, straight off the baking tray.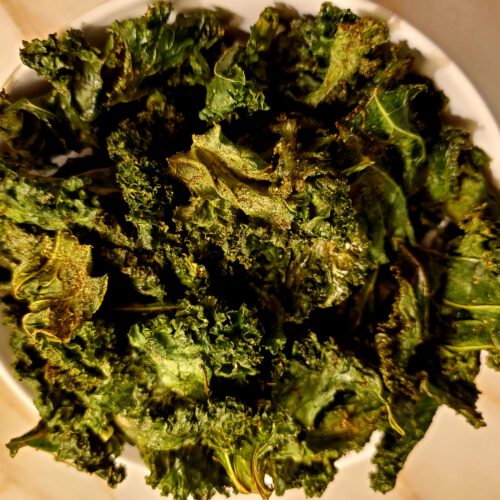 Kale Chips with Greek Seasoning
Delicious chewy and crunchy kale chips are oven roasted and seasoned with delicious Greek seasoning.
Ingredients
1

bunch

Kale (about 8 oz)

1

tablespoon

Extra virgin olive oil (or melted coconut oil)

1

tablespoon

All Purpose Greek Seasoning

1

tablespoon

Nutritional Yeast (optional) 
Instructions
Preheat oven to 325°F.  Line a 13"x18" baking sheet with parchment paper.

Rinse kale, remove leaves from stems and tear into large pieces, spin the pieces until dry.

Place pieces of kale into a large bowl, drizzle with oil, then use (gloved) hands to turn and distribute the oil evenly. 

Spread pieces in a single layer on the baking pan. Sprinkle with Greek Seasoning and Nutritional Yeast (optional).

Roast at 325°F for 12 minutes. Rotate the pan (back of the oven is often hotter) and return to the oven for an additional 12 minutes.

Allow to cool on the baking sheet for a few minutes.  Kale chips loose their crispiness the longer they are out of the oven, so enjoy them right away.