Tzatziki is a yogurt-based cucumber and garlic dip that is a standard part of traditional Greek and Middle Eastern cuisine.  It is typically paired with warm pita and gyro meat. But it doesn't stop there…
Tzatziki is also delicious with any other grilled meat, chicken, shish kebabs, even salmon or other fish.  Beyond meat, tzatziki is a perfect dip for veggies, chips and crackers. You name it, you can dip it in tzatziki! This creamy concoction also pairs well with fresh (like sliced tomatoes) or fried (zucchini or eggplant) vegetables.
But wait, there's more!
Tzatziki is traditionally made with full fat yogurt, however, fat free or low fat can be substituted, making this tzatziki lower in calories than mayonnaise or sour cream based dips. Try tzatziki as a sandwich spread in place of mayonnaise or as a topping for baked potatoes!
So, for this recipe, use an English cucumber as they have fewer seeds and a thinner skin that don't require removal before grating. Grate the cucumber on the smaller holes of a box grater for a fine shred. Drain the shredded cucumber in a strainer.  If desired, gently press the liquid out for a drier final product.
This is one of those dips that gets better with time, so for the best flavor refrigerate overnight. Leftover tzatziki can be kept in the fridge (in an airtight container) for up to three days or frozen for up to a couple of months without affecting the texture when it thaws.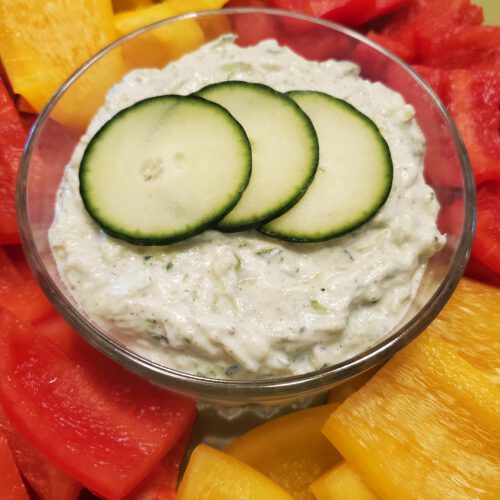 Easy Greek Girls Tzatziki
Delicious, fresh and creamy Greek tzatziki dip is made easier with Greek Girls Gourmet All Purpose Greek Seasoning.
Ingredients
2

cups

Greek yogurt

4

cloves

Garlic, peeled and minced

1

English cucumber, grated (about 1 cup)

2

tablespoons

Lemon juice

1

tablespoon

Extra virgin olive oil

1

tablespoon

Greek Girls Gourmet All Purpose Greek Seasoning
Instructions
Shred cucumber on the smaller holes of a shredder (for a finer shred).  Place shreds in a strainer while preparing the other ingredients.  Press gently to remove excess liquid.

Place yogurt, garlic, lemon juice, olive oil and Greek Girls Seasoning in a bowl.  Add strained cucumber. Stir together to combine. 

For best flavor, refrigerate 4 hours before serving. Store refrigerated in a sealed container for up to 3 days.