Leftover broccoli…
Unless you are a big broccoli fan, it just might end up in the trash. But before you do that, here is an easy way to make it appetizing again, and feel a little bit fancy while you do it. Quiche is basically an egg pie to which we add other ingredients, often based on what we have on hand. You can add just about anything, and for this recipe we literally used leftover broccoli from the night before. It was already seasoned and was dry, which is important. Extra moisture will lead to a soggy quiche, so feel free to pat your veggies dry with a paper towel before mixing.
The quiche custard is based on an egg to milk ratio. Typically, it is 4 eggs per 1 cup of milk, depending upon the recipe. The milk is important. Be sure to choose milk with fat: whole milk is great, but half whole milk and half heavy cream (half and half) is even better.
We made this quiche without a crust, but a crust is totally fine. Just be sure it is delicious, buttery, flaky and crisp around the edges. The egg and milk mixture has a tendency to make a crust soggy, so it is very important to blind bake the crust before filling. You'll need to do this whether you purchase a prepared pie crust or make your own. It does add time and additional steps to the recipe.
To blind bake a pie crust:
Preheat oven to 350 degrees.
Line the pie pan with prepared crust dough. Shape the edge as desired.
Line the crust with a piece of parchment.
Place one layer of pie weights or dry beans in the bottom of the crust
Bake in the preheated oven for 15 minutes.
Remove from the oven and allow to cool.
Remove the cooled parchment and pie weights.
Return crust to the oven for an additional 8 minutes.
Remove from the oven and allow to cool slightly before adding the quiche mixture.
A quiche recipe is very forgiving and accommodates variations for the ingredients you have on hand. Just remember to keep the egg to milk ratio, and don't exceed 2 cups of veggies (or meat) and 2 cups of cheese.  This is a great opportunity to use up leftovers: turkey and Swiss cheese, spinach and feta, or whatever combination you'd like to try!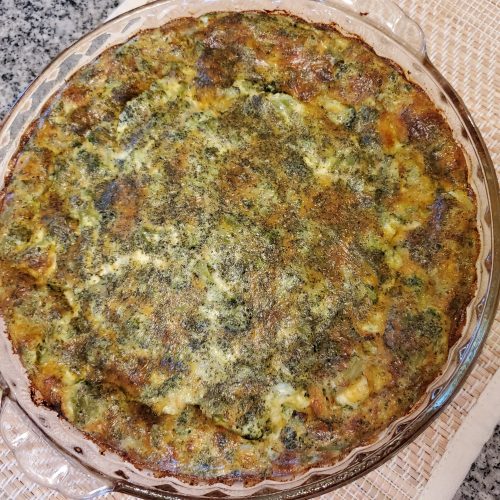 Crustless Broccoli Quiche
Crustless quiche turnsleftover broccoli into a quick, easy and delicious side dish that feels just alittle bit fancy.
Ingredients
6

Eggs, large

¾

cup

Whole milk

¾

cup

Heavy cream

2

cups

Broccoli (cooked, seasoned and rough chopped)

(pat dry with paper towel)

1

tablespoon

Greek Girls Gourmet All Purpose Greek Seasoning

2

cups

Sharp cheddar cheese, shredded
Instructions
Preheat oven to 375 degrees. Spray a 9" deep dish pie pan with pan spray.

In a large bowl, whisk together eggs, milk and heavy cream. You want the mixture to be light and have air bubbles.

Stir in the broccoli, Greek Girls Seasoning and shredded cheese.

Pour egg mixture into the prepared pan and bake for 35 minutes, until the filling is puffed up and browned on top. The center should spring back when touched.

Allow to cool slightly before serving.