Spring is finally here and with it comes many options for greens and veggies to cook with! But, let's not get too crazy here. We're starting with spinach. Of course, frozen spinach is always an option, but since fresh spinach is available everywhere – and it is SPRING – avoid the frozen at all costs.
This dish looks super fancy but is oh-so-easy once you get the hang of rolling a thin sliced chicken breast. The first time I made it I had lots of ideas about different variations. For example, there may be other cheese options besides feta. Ricotta is less salty than feta and could be a good substitute. You could also try stirring 2 ounces of cream cheese into the warm spinach until it is melted and creamy. No matter which cheese you choose, be sure to add the Greek Seasoning for delicious flavor!
The recipe instructions say to start with thin sliced chicken breasts and to pound them with a meat tenderizer. The goal here is to make each breast uniformly about ½" thick. They may not need much, but even a little tenderizing is worth the effort. It helps with even cooking and makes the chicken especially tender.
One last tip: The butter and oil mixture that is poured or brushed on before cooking adds an extra layer of flavor, helps with browning and prevents the chicken from becoming dry as it bakes. Don't skip this part.  Butter makes everything better.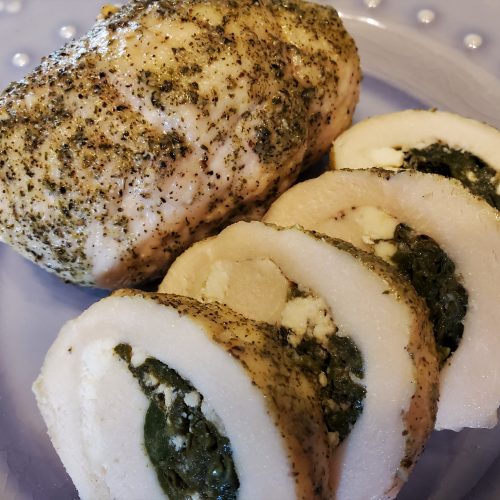 Spinach Stuffed Chicken Breasts
Spinach and feta cheese rolled up inside thin sliced chicken breast and baked to a beautiful, buttery, browned deliciousness.
Ingredients
1

tablespoon

Butter, melted

1

tablespoon

Extra virgin olive oil

2

teaspoons

Greek Girls Gourmet All Purpose Greek Seasoning

(divided)

5

ounces

Spinach, fresh

(stems removed, rough chopped)

1

tablespoon

Water

(optional)

4

ounces

Feta cheese, crumbled

2

pounds

Chicken breast, thin sliced

(6 pieces)

Pan spray

Salt and pepper

Toothpicks
Instructions
Preheat oven to 375°. Spray a 8"x10"x2" baking dish with pan spray. Set aside.

Melt the butter, add olive oil and 1 teaspoon All Purpose Greek Seasoning. Stir to combine and set aside.

Place the chopped spinach in a non-stick pan over low to medium heat. Stir until wilted. Add up to 1 tablespoon water to help wilting. Allow to cool. Add 3 ounces feta cheese and 1 teaspoon All Purpose Greek Seasoning. Fold gently to combine. Set aside.

Lay the thin-sliced chicken breast on a cutting board. Cover with plastic wrap or wax paper. Using a meat tenderizer, pound thicker areas of breasts to a uniform ½" thickness. Discard the plastic wrap or wax paper. Sprinkle both sides of chicken with salt and pepper.

Spoon the spinach mixture equally onto the wider end of each breast. Sprinkle on the remaining feta cheese. Starting at the wider end, gently roll each breast, with the spinach mixture inside. Secure with a toothpick. Transfer to the prepared baking dish.

Pour the butter and oil mixture over the rolled breasts; use a brush or spoon to be sure they are completely covered. Bake at 375° for 40 minutes or to an internal temperature of 165° degrees.

Baste the finished breasts with pan drippings, then allow them to rest about 5 minutes before serving.