People have very strong opinions about Brussels sprouts.  They assume they don't like the sprouts because they are afraid to taste them.  Or… the say they don't like them because they have tasted them, and the sprouts were probably the yucky boiled kind.  OR… they do like Brussels sprouts.  An informal survey lead me to believe the third category is the smallest.
I used to be in the first category.  Had not tried them, in recent memory, and assumed the worst.  But now I have been enlightened to the wonder of roasted vegetables, including the often misunderstood Brussels sprout.
Yes, Brussels. Capitalized and plural.  It is thought to have been named for Brussels, Belgium.  It is part of the cabbage family (it looks like a tiny cabbage) and has the health benefits of other cruciferous vegetables.
For this recipe, I used frozen Brussels sprouts, since it is February and they are not in season.  Fresh can also be substituted (and is preferred).  Consider cutting fresh sprouts in half for more surface area for roasting.  (Also be sure to wash fresh veggies thoroughly and trim stalk and outer leaves.)  Roasting time varies.  For this batch, the medium size frozen sprouts took 35 minutes.  For fresh sprouts that are cut in half, roasting time is closer to 20-25 minutes.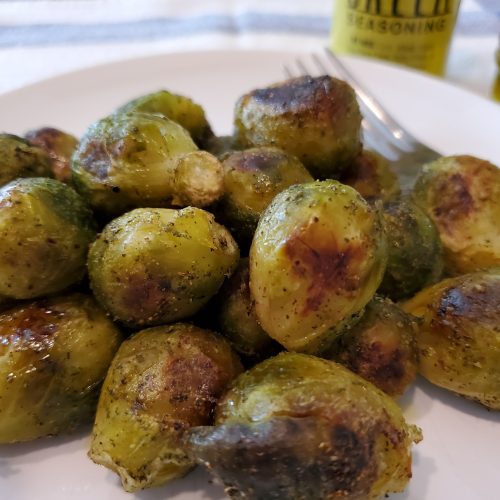 Roasted Brussels Sprouts with Greek Seasoning
Roasted and caramelized Brussels sprouts with Greek seasoning.
Ingredients
12

ounces

Brussels sprouts

(fresh or frozen)

3

teaspoons

Extra virgin olive oil

(divided)

1

teaspoon

Greek Girls Gourmet All Purpose Greek Seasoning
Instructions
Preheat oven to 400°.  Line a baking sheet with parchment paper.

Place Brussels sprouts in a medium size bowl.  Drizzle with 2 teaspoons olive oil and using a rubber spatula, toss to coat all the sprouts.  Sprinkle on about half the All Purpose Greek Seasoning, then toss.  Sprinkle the rest, then toss again. 

Pour the Brussels sprouts onto the prepared baking sheet.  Be sure to scrape all the goodness from the sides of the bowl onto the sprouts.

Roast in a 400° oven for about 30 minutes.  About every 15 minutes, remove the baking sheet and shake it gently to roll the sprouts for even cooking.  Return to the oven to complete roasting.  Roasting time depends upon the size of the sprouts. Use a fork to test for tenderness.

After removed from the oven, add a final drizzle of 1 teaspoon olive oil, gently toss again.