Olive oil, delicious seasoning and the creamy crunch of roasted potatoes.  That is what I get every time with these little nuggets.  The tiny "one-bite" potatoes are very easy, as there is typically no chopping required.  However, the same recipe can be used with new potatoes or even the yummy Yukon gold variety.  Best of all, this recipe requires very little prep, then the oven does all the work.  Super easy (and delicious) side dish for a quick week night meal.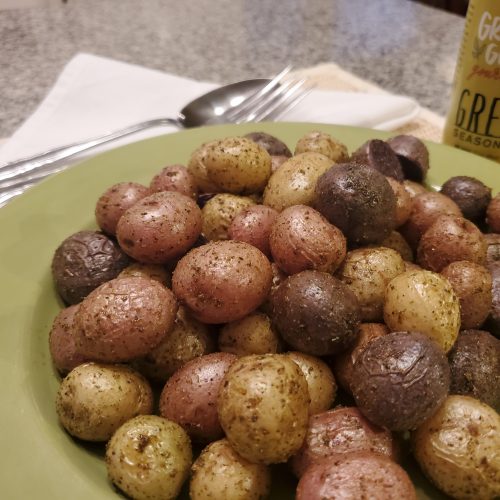 Mediterranean Roasted Mini Potatoes
Roasted mini-potatoes with the perfect Mediterranean seasoning.
Ingredients
2

pounds

One-bite (mini) potatoes (or new potatoes)

2

tablespoons

Extra virgin olive oil

3

teaspoons

Greek Girls Gourmet All Purpose Greek Seasoning
Instructions
Preheat oven to 400°.  Oil a large (10x13) baking stone, sheet cake pan, cookie sheet or other pan with low sides.  No parchment, so the potatoes will crisp.

Wash and scrub potatoes.  Turn onto a clean, dry kitchen towel to allow potatoes to dry. (Oil won't stick to wet potatoes).  For new potatoes: Cut potatoes in half, keeping equal size chunks. A consistent size will allow them to cook evenly.

Place potatoes in a large bowl.  Drizzle with 2 tablespoon extra virgin olive oil and toss to coat. 

Sprinkle half of the All Purpose Greek Seasoning, toss gently.  Then sprinkle the remaining All Purpose Greek Seasoning, tossing again. 

Pour the potatoes onto the prepared pan, distributing them evenly over the surface.  Use a spatula to scrape all the oil/seasoning mixture from the bowl onto the pan.  For any cut pieces, place the cut side down for better crisping.

Place in 400° preheated oven and roast for 15 minutes. 

Remove pan from oven and turn potatoes gently, for even cooking.  Return to the oven for the remaining 10 minutes. 

This cooking time is for mini potatoes.  For new potatoes or larger pieces, longer roasting time will be required, turning potatoes every 15 minutes.  Check for doneness and enjoy!