I learned something new while preparing for this recipe. In all my years of making hummus why did no one ever tell me this?
Chickpeas have that waxy coating. They don't really bother me, but sometimes they leave chunky bits in the creamy deliciousness of hummus.
But it doesn't have to be that way. Wait, what?
Nope. It doesn't.
So here it is…  To get the creamiest of hummus, pinch that waxy skin off each chickpea before mashing or processing them.  It is a little extra work to handle each pea, but so worth it when you taste the creamy smoothness of the resulting hummus.
Chickpeas are the primary ingredient in hummus, and we can choose either the canned or dried variety. Canned chickpeas are well cooked and break down easily for a smooth hummus.  But, they also have a tendency for a slight metallic taste. Dried chickpeas, on the other hand, must be soaked then cooked until very soft.  This prospect does not lend itself to a spontaneous bowl of hummus, but they will have a bit more flavor. So, it's your choice. Either one is great for this recipe.
You may be surprised to find hummus is high in fat. That is because tahini and olive oil (both fat) make up most of the calories. Tahini is a thin paste made from ground sesame seeds.  It is very similar in consistency to sunflower seed butter or other nut butters.  Tahini has an earthy flavor that gives hummus the familiar taste we love. So, even with the fat, this dish is high in protein and completely plant-based.
This recipe is very easy and can be made start to finish in a food processor. Be sure to process long enough to get the smooth consistency you want. It is worth the extra minute or two for creamy delicious hummus.
One more thing… Hummus should be stored in the refrigerator and should be used within 4-5 days.  However, for the best flavor, serve at room temperature with pita bread, fresh vegetables, chips, apples or your favorite dipper. Enjoy!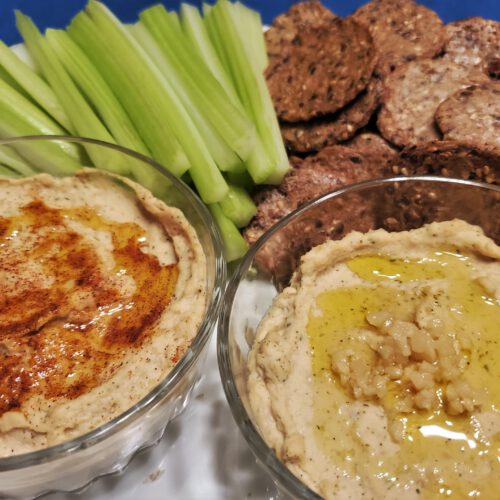 Greek Girls Hummus
Smooth and creamy hummus made start to finish in your food processor. Loaded with flavor and the perfect dip for pita bread, chips, veggies or fruit.
Ingredients
15

ounce

Chickpeas (garbanzo beans), drained and reserve the liquid

(Or about 1¾ cups [measured after cooking] of dried beans that have been soaked then cooked, reserve 1 cup of the cooking liquid)

4

tablespoons

Tahini

2

tablespoons

Extra virgin olive oil

2

cloves

Garlic, minced

(Or 2 teaspoons of bottled minced garlic)

2

tablespoons

Lemon juice

1½

teaspoons

Greek Girls All Purpose Greek Seasoning

¼

teaspoon

Salt (optional, to taste)

Optional Garnish: A few reserved chickpeas, Roasted pine nuts, Sprinkle of paprika, Drizzle of olive oil or Minced garlic
Instructions
Drain the canned chickpeas, reserving the liquid.  If using cooked chickpeas, reserve about 1 cup of the cooking liquid.

Using your thumb and pointer finger, gently pinch or squeeze each chickpea, to remove the waxy outer layer.  Discard the skins and place the chickpeas in a food processor (fitted with a blade attachment).

Also add to the food processor: the tahini, olive oil, garlic, lemon juice and Greek Girls Seasoning.

Process the mixture until it is smooth and creamy.  Scrape down the sides several times during processing.  Add the reserved liquid as needed to reach desired consistency.

Add salt to taste (optional).   

Garnish asdesired.  Serve at room temperature.  Makes about 1½ cups.