It's another week night.
Everyone is hungry.
The fridge is uninspiring.
Well, that's what happens at my house, anyway.  I added chicken tenders to the grocery list the last couple of weeks, and they are a hit!  They cook in no time at all, and as the name implies, are tender and juicy.  They take on the Greek seasoning flavor well, so don't be afraid to sprinkle on more than the two teaspoons called for in the recipe.  I cook the tenders on parchment, as that's my personal preference.  I find there are more juices left on the pan.  If you don't have parchment, I would use some pan spray before adding the tenders.
Chicken tenders are perfect to pair with a seasonal vegetable or even to top a large dinner salad.  Add some chicken tenders to your dinner rotation and get your family back around the table.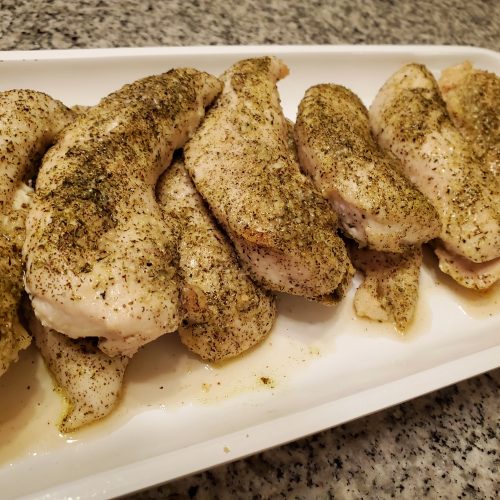 Easy Chicken Tenders with Greek Seasoning
Dinner will be ready in no time with these oh so quick and tasty chicken tenders
Ingredients
24

ounces

Chicken tenders

2

teaspoons

Greek Girls Gourmet All Purpose Greek Seasoning

(divided)

2

teaspoons

Grated Parmesan cheese

Extra virgin olive oil
Instructions
Preheat oven to 375°.  Line a large baking sheet with parchment.

Lay the tenders out on the baking sheet.  Drizzle with olive oil.  Sprinkle with 1 teaspoon All Purpose Greek Seasoning.  

Turn the tenders over and arrange on the baking sheet so the tenders are not touching.  Repeat the drizzle of olive oil and sprinkle of seasoning.

Sprinkle the tenders with grated Parmesan cheese.

Place the tenders in the 375° oven and bake for 20-25 minutes.  Chicken should be cooked to an internal temperature of 165°, so don't rush this.

Remove from oven and enjoy!