Cooking this savory vegetable dish always fills the air with the aromas of the Mediterranean: garlic, onion, oregano, dill, parsley, olive oil.  The recipe makes a big batch and is a frequent go-to for our family functions.  In this day of fast everything, this is slow cooking at its best.  With a cooking time of an hour and a half, advanced planning is definitely required.  But when you taste the result, it will be worth the wait.
Just one additional note:  Don't try this in a slow cooker!  Those appliances do not reach the boiling temperature required.  We have tried it and it doesn't work.  After hours in the slow cooker we just ended up cooking the batch according to the directions below.  Lesson learned.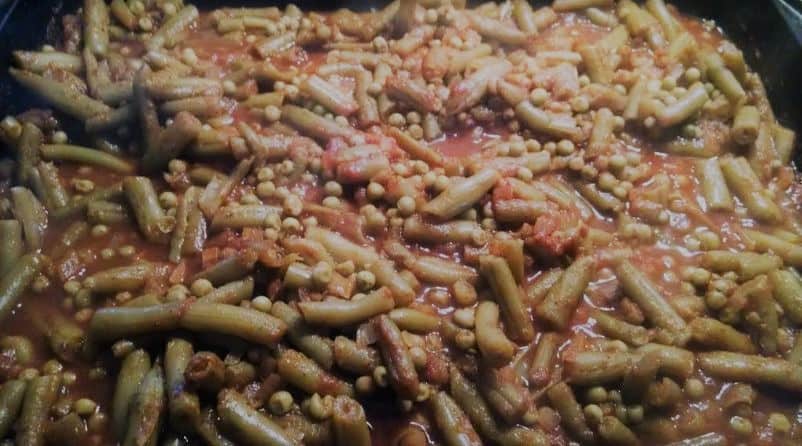 Delicious Greek Green Beans and Peas
Green beans and peas baked in an olive oil and tomato sauce with just the right seasonings. This savory dish is not quick but is worth the wait.
Equipment
Large deep casserole (10" x 13" x 3" deep).
Ingredients
8

cans

Green beans

2

cans

Green peas

1

large

Onion, diced

2-3

tablespoons

Greek Girls Gourmet All Purpose Greek Seasoning

4

tablespoons

Extra virgin olive oil, divided

6

ounces

Tomato paste

8-12

cups

Water

Non-stick pan spray
Instructions
Preheat oven to 450 degrees. Spray large, deep casserole pan with non-stick pan spray.

Place green beans, peas, diced onion, Greek seasoning and 2 tablespoons olive oil in the prepared pan.

In a separate bowl, whisk a small amount of tomato paste with 1-2 cups of water, until the tomato paste is fully diluted. Pour the tomato paste/water mixture over the vegetables. Repeat until all 6 ounces of tomato paste is diluted and added to the vegetable pan.

Stir gently then add additional water to the pan until the vegetables are completely covered. (Some veggies may float.) It will seem like a lot of water. Much of the liquid will evaporate during cooking, so it is important to start with enough.

Carefully place uncovered pan into the preheated 450 degree oven. Bake until the liquid boils around the edge of the pan. Time varies, but typically takes about 30 minutes to reach this point.

Reduce heat to 375 degrees, and it is important the liquid continues to boil through this stage of cooking. Cook approximately 1 hour more, until the onions are tender.

Remove pan from the oven. Carefully stir in the remaining 2 tablespoons olive oil.
Notes
Canned green beans and peas are used for this version of the recipe.  (For all vegetables, organic is recommended.  For canned foods be sure to check for BPA-free lining.)  Fresh or frozen vegetables can be used for this recipe.  Keep in mind the cooking time increases by about an hour.