Asparagus is another delicious vegetable of spring! It is also versatile in that it is easy to oven-roast, pan-roast, grill, sauté or steam. It loves to be dressed up with butter, sauces or simple seasonings.
Asparagus is over 90% water, is a good source for many vitamins and minerals and is high in fiber. When shopping for asparagus, pay close attention to the size of the spear. The younger the asparagus, the thinner and more tender they are. The more mature spears are thicker and more likely to be fibrous and woody, especially at the bottom. When preparing your asparagus for this simple dish, just cut or snap off those fibrous bottoms. But for the best flavor and tenderness, choose the thinner spears to begin with.
Now, lets talk about garlic. For this vinaigrette, you just need a half teaspoon of minced garlic. I have somewhat of an inner struggle here. Should I go to the trouble of buying and keeping fresh bulbs and cloves of garlic for this small amount? Should I prep it in advance and keep bags of fresh minced garlic in the freezer? Or, should I give myself a break and buy the jarred variety?
Yes – I know fresh has more flavor. But it is sort of a hassle to peel and mince for half a teaspoon.
And jarred is so convenient… and the tiny little pieces are all uniform in size.
So, I admit to you, I did use jarred garlic this time around, and it came out delicious.
Finally, not everyone likes "crisp" cooked vegetables. I am one of those people. Asparagus can steam in just a few minutes, but for those of us who like what is probably considered "overcooked" vegetables, let them steam a little longer!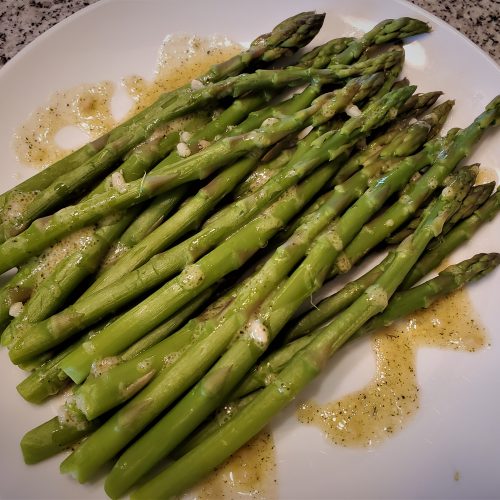 Asparagus with Lemony Vinaigrette
A delicious spring vegetable with a light, fresh and flavorful vinaigrette topping.
Ingredients
1

pound

Asparagus, washed and bottoms trimmed

2

tablespoons

Extra virgin olive oil

2

teaspoons

Lemon juice

1

teaspoon

Dijon mustard

1

teaspoon

Apple cider vinegar

½

teaspoon

Garlic, minced

(fresh or jarred)

½

teaspoon

Greek Girls All Purpose Greek Seasoning

Salt to taste

(optional)
Instructions
Place asparagus in a steamer basket. Steam over high heat to desired tenderness. About 3 minutes for crisp-tender or up to 10 minutes for soft-tender.

While the asparagus steams, whisk the remaining ingredients together in a small bowl.

Transfer the cooked asparagus to a shallow bowl or platter. Drizzle with vinaigrette and serve immediately.