I love green beans and they are everywhere.  In casseroles, in soups, in cans, in the freezer, on buffets with onions and bacon.  And before we know it they'll show up at our local farmers markets.  After this long winter, some of us may need to steer away from mushroom soup soaked beans, to something fresher and healthier.  This recipe is quick, and can typically be on the table in about 20 minutes.  Just a few notes:  It is important for green beans to steam with well salted water.  This helps with flavor and the beans keep their bright green color.  Second, you may want to adjust the steam time based on your personal preference for green bean doneness.  Keep in mind they will cook an additional 4-5 minutes in the skillet.  I also love the bit of browning the freshly steamed green beans get from the iron skillet, but if you don't have one, do not fear, just use what you do have and enjoy the delicious results.
(In full disclosure… I really do love green beans, and have even been known to stand in the kitchen eating them straight out of the can.)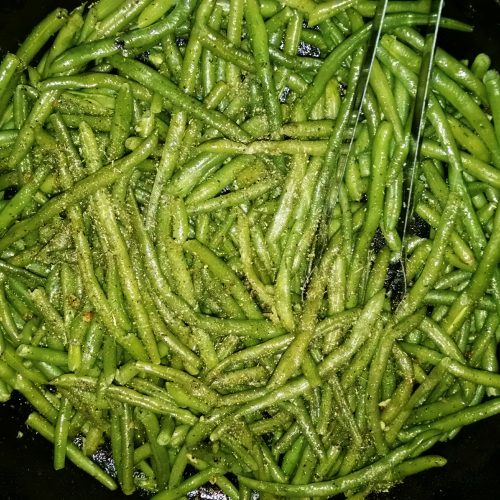 Skillet Green Beans with Greek Seasoning
Tasty green bean side dish (finished in a cast iron skillet) can be on the table in about 20 minutes.
Equipment
Large pot with tight fitting lid

Steamer basket

Cast iron skillet (10" or larger)
Ingredients
16

oz

Extra fine or french green beans, whole

(fresh or frozen)

1

teaspoon

Salt

1

teaspoon

Butter

2

teaspoons

Extra virgin olive oil

2

teaspoons

Greek Girls Gourmet All Purpose Greek Seasoning

(divided)

2

teaspoons

Lemon juice
Instructions
Using a large pot with a tight lid, add enough water to cover the bottom with about 1 inch of water. Add 1 teaspoon salt. Place the steamer basket in the pot.

Heat the water over medium high heat until it begins to boil. Quickly add the fresh or frozen green beans and place the lid on the pot. Reduce heat to medium, however, monitor the heat to keep the water boiling. Refrain from removing the lid. Steam for 7 to 8 minutes, until the beans are crisp tender.

While the beans are steaming, melt the butter in the cast iron skillet over low heat. Add the olive oil and 1 teaspoon All Purpose Greek Seasoning, stirring to combine.

When the green beans have finished steaming, remove them from heat and remove the lid (being careful of the escaping steam). Increase the heat on the skillet to medium-high. Using a large spoon or tongs, carefully transfer the hot green beans to the skillet. Toss to combine and saute over medium heat 4 to 5 minutes. Finally, add the lemon juice and 1 teaspoon All Purpose Greek Seasoning. Toss again. Add additional salt and pepper, as desired.