It seems like there is cauliflower everywhere.  Mashed, riced, in pizza crust and crackers.  We have been bombarded with ideas for using cauliflower to fool us into thinking we are eating something else.  I agree, cauliflower is a great low carb alternative to potatoes and grains.  And it seems like every week it is in my shopping cart.  So, I decided today I would make cauliflower into… cauliflower.  With just a few ingredients, and in less than an hour, I had delicious, tender, caramelized cauliflower steaks.  These beauties are quick to prepare then the oven does all the work. Just the way I like it.
Note:  Cauliflower has a tendency to be bland, so this is one recipe where I recommend adding a sprinkle of salt to each side of the cauliflower steaks.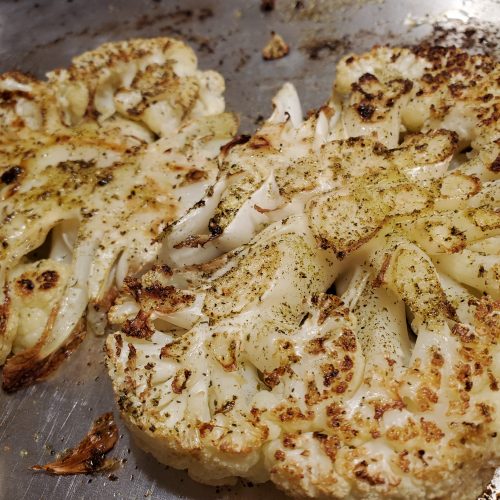 Mediterranean Roasted Cauliflower
Roasted and caramelized cauliflower steaks
Ingredients
1

head

Cauliflower (large)

(leaves removed)

2-3

tablespoons

Extra virgin olive oil

2

teaspoons

Greek Girls Gourmet All Purpose Greek Seasoning

Salt

(as needed)
Instructions
Preheat oven to 400°. Lightly oil a baking sheet or baking stone

Rinse cauliflower thoroughly and allow water to drain out of the center.

Slice the cauliflower into four or more slices (steaks). For best results, make sure each slice has two flat sides.  Typically, about 1-inch slices work well. Keep the cauliflower bits that may separate and include them on the baking sheet. 

Place each slice on the prepared baking sheet. For slices with uneven sides, start this step with the cut side up.  Drizzle with 1 tablespoon extra virgin olive oil (more as needed).  Alternatively, the olive oil can be brushed on each slice. Then sprinkle the slices with 1 teaspoon All Purpose Greek Seasoning. Optional: Sprinkle with salt in addition to seasoning.

Carefully turn each slice over and repeat the olive oil, seasoning and salt (if desired).  At this step the uneven slices will have the cut side down (for best roasting).

Place into 400° preheated oven and bake until golden brown, about 40 minutes.  At about halfway through the baking time, remove the pan from the oven.  Using a wide spatula carefully flip each slice over. Return the pan to the oven to finish the roasting time.  Serve immediately.