No Greek meal is complete without some sort of bread.  They toast it or dip it in oil or put feta cheese on it.  And that's just for starters.  Sometimes they even tear it in pieces to float in their soup!  In America, us low carb folks fear bread as something that will pack on pounds.  So, if we're going to eat bread, it should taste good.  Grass fed butter and delicious seasonings always help with that.
If you avoid gluten, for this recipe idea choose a bread that meets your dietary needs.  There are a lot of good gluten free options available these days.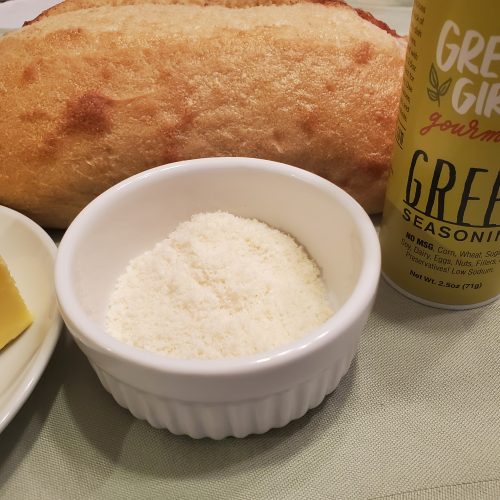 Greek Girls Toasty Bread
Buttery crusty bread with yummy Mediterranean seasoning.
Ingredients
1

16 oz

Loaf of Italian bread

2-3

tablespoons

Butter

(softened)

¾-1

teaspoon

Greek Girls Gourmet All Purpose Greek Seasoning

1

tablespoon

Parmesan cheese

(grated)
Instructions
Using a serrated knife, slice the bread in half lengthwise (so you have a top and a bottom). 

Place both halves cut side up on a foil lined baking sheet.  Butter each half liberally.  Be sure to spread butter all the way to the edge of the bread.

Sprinkle with All Purpose Greek Seasoning, then with Parmesan cheese. 

For each half of the loaf, slice diagonally into approximately 1½" pieces.

Bake at 375° for 10 minutes, until the edges begin to brown.  Carefully remove from the oven and enjoy!

Options:

· Do not slice each half of the loaf into individual pieces.  Bake or broil each half then slice into individual pieces when cooled enough to handle.

· Instead of baking, place the prepared bread under a hot broiler.  Check for doneness every 1 to 2 minutes.

· For a larger loaf of bread, increase the amount of butter, seasoning and Parmesan cheese accordingly.